Spring Break Staycation for family
Posted by Jenny Smith on Friday, March 10, 2023 at 1:11:48 PM
By Jenny Smith / March 10, 2023
Comment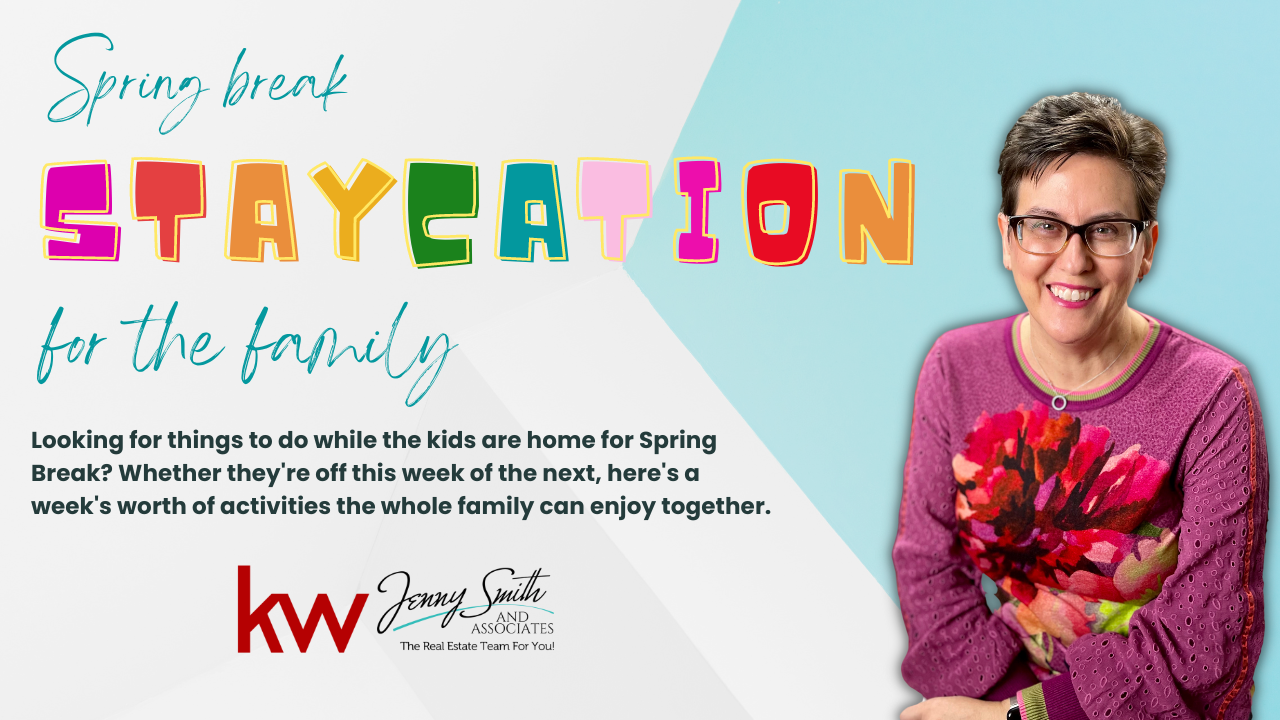 Looking for things to do while the kids are home for Spring Break? Whether they're off this week of the next, here's a week's worth of activities the whole family can enjoy together.
📌 Lakepoint Station
Lakepoint Station is your destination for family fun! Challenge your family to scale to new heights on 17 different climbing challenges soaring to an amazing 28 feet in the state's tallest indoor rock climbing facility, or join forces in battle and defend your family honor in our state of the art Laser Tag. Take the little ones deep in the mountain to mine precious gems or regroup to defend the planet from Space Invaders or the Walking Dead in our arcade. Refuel at St. Angelo's Pizza or satisfy that sweet tooth at Station Sweets.
📌 Tellus Science Museum
Tellus is a world-class 120,000 square foot museum located in Cartersville, GA. The museum's exhibits open minds and ignite a passion for science. Tellus features four main galleries: The Weinman Mineral Gallery, The Fossil Gallery, Science in Motion and The Collins Family My Big Backyard. A 120-seat digital planetarium and an observatory with a state-of-the-art 20-inch telescope is also located at Tellus. Children will have a blast conducting hands-on experiments with light, sound, magnets and more.
📌 Pettit Creek Farms
Pettit Creek Farms lays nestled in the foothills of North Georgia in scenic Cartersville! This 80-acre farm has been in the Allen family since 1945. You may see a camel, zebra, patagonian cavey, emu, herds of ponies, buffalo roaming; not to mention the proverbial cow, donkey, chicken, turkey, pig, goats, sheep and much, much more!
📌 The Labyrinth of Rome
https://romegeorgia.org/attraction/labyrinth-rome/
The Labyrinth of Rome was created as an adaptive reuse of what originally built by the Works Progress Administration (WPA) in the 1930s as an erosion control pond. Later it was utilized as an amphitheater by folk artists in the 60's and 70's as a space for reading poetry and playing music.
Walking a labyrinth is a form of meditation: sacred breath, sacred step. Pause if you like at the center and enjoy the feeling of peace, breathing slowly but deeply, your feet firmly planted on the stone that connects you with Mother Earth.
📌 Go Time! Family Fun
https://www.gotimefamilyfun.com/
Go Time provides family entertainment for Rome, GA and the surrounding area. Activities include mini golf, go kart, battle ball and more!
📌 Rock Garden
https://calhounsda.com/rock-garden
This volunteer-built, folk art pleasance in Calhoun is a must-see! In addition to the acre of flowers and greenery, there is the captivating artistry of more than 50 diminutive buildings. The structures, all crafted from tiny stones, pebbles, shells, odd pieces of broken glass and china, rocks, ceramic tile, cement, wire and other materials, are designed to imitate their larger counterparts. There are wee-sized churches, houses, castles, a monestary, cathedrals such as a structure modeled after the Notre Dame cathedral in Paris, France, with stained-glass windows; and minikin porcelain figures of people and animals, some as small as two inches. A real-people-sized music pavliion towers over it all, added to provide a place for music performances.
📌 Farmer Sue and The Art Barn at Morning Glory Farm
Quack, Oink, Moo and a Cocka-doodle-doo!
Looking for a little farm fun? Then we are the place for you!
Amazing 6 acre family farm celebrating Art, Animals & Agriculture. Hosting private birthday parties, summer camp, field trips, play dates, workshops, barnyard meet & greets & educational farm to table field trips. You will meet all the animals up close and personal. No petting farm pens here! You will have time to groom, hold and brush them. You will create a great piece of original ART, and hop a hayride. You will meet chickens, ducks, bunnies, lambs, goats, donkeys, horses, pigs and more. Create a magical memory for your family as you spend a relaxing day on the farm. Your kids will be counting the days until they can return!