Preparing Your Home for a Stellar Open House: 10 Tips to Attract Potential Buyers
Posted by Jenny Smith on Monday, August 21, 2023 at 4:19:08 PM
By Jenny Smith / August 21, 2023
Comment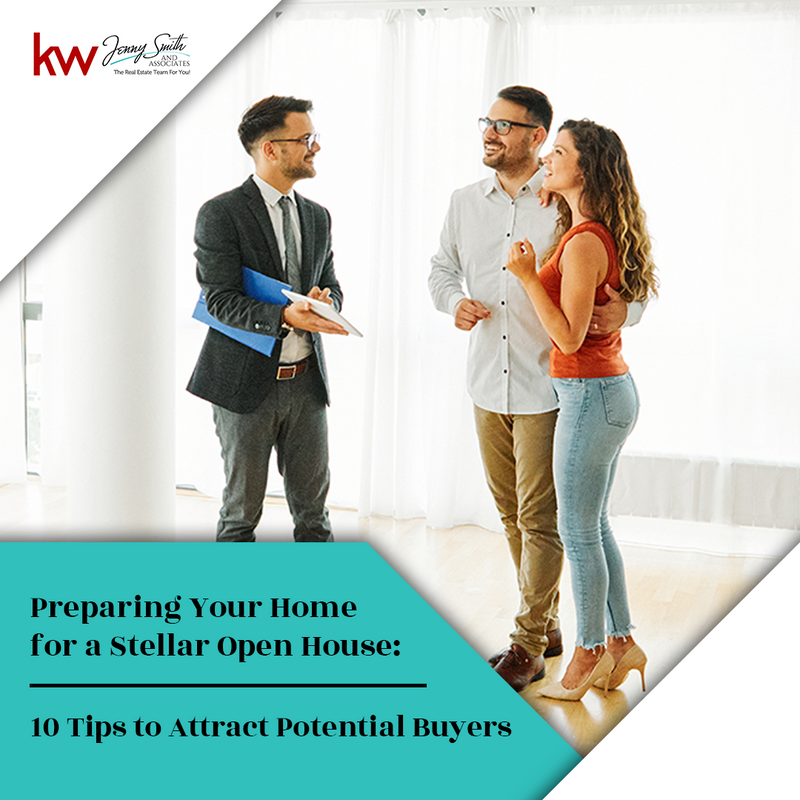 When it comes to selling your home, making a lasting impression during an open house is key. A well-prepared and inviting space can capture the hearts of potential buyers and lead to a successful sale. To ensure your open house shines, we've compiled ten essential tips that will help you showcase your home's best features and leave a positive impression on every visitor.

1. Clean and Declutter: Before opening your doors to potential buyers, give your home a thorough cleaning. Remove clutter, tidy up countertops, and organize closets. A clean, clutter-free space makes it easier for buyers to envision themselves living in your home.

2. Boost Curb Appeal: First impressions matter, so focus on your home's exterior. Trim the lawn, add fresh flowers, and touch up paint if needed. A welcoming front entry sets the tone for the entire open house experience.

3. Repairs and Maintenance: Attend to minor repairs, like leaky faucets or squeaky doors, before the open house. Buyers appreciate a well-maintained home and may be turned off by neglected maintenance.

4. Neutralize and Depersonalize: Neutral colors and décor help potential buyers visualize their own belongings in the space. Consider repainting bold-colored walls with more neutral tones and removing personal items like family photos.

5. Showcase Natural Light: Open curtains and blinds to let in natural light. A well-lit home feels more inviting and spacious, and it allows buyers to appreciate your home's true beauty.

6. Arrange Furniture: Optimize the layout of your furniture to create an inviting flow throughout the home. Arrange seating areas to encourage conversation and highlight the best features of each room.

7. Highlight Architectural Details: Showcase unique architectural elements, such as built-in shelving or a fireplace, by arranging furniture and décor to draw attention to these features.

8. Refresh Interiors: Simple updates, like new throw pillows, fresh linens, or a decorative centerpiece, can breathe new life into a room without breaking the bank.

9. Pleasant Scents: Light scented candles or use air fresheners with subtle fragrances. A pleasant scent can create a welcoming atmosphere and leave a positive impression.

10. Provide Refreshments: Consider offering light refreshments like bottled water, small snacks, or fresh fruit. This thoughtful gesture adds a touch of hospitality and encourages visitors to linger.
Ready to Showcase Your Home? Schedule Your Open House Today!
Now that you're armed with these ten tips, you're well on your way to hosting a stellar open house that attracts potential buyers and makes your home truly shine. Remember, the goal is to create a welcoming and inviting atmosphere that allows visitors to envision themselves living in your space.

Are you ready to take the next step in selling your home? Contact us today to schedule your open house and embark on the journey toward finding the perfect buyer for your cherished property.