How To Use Instacart and Have Your Publix Shopping Trips Delivered
Posted by Jenny Smith on Monday, April 13, 2020 at 8:36 AM
By Jenny Smith / April 13, 2020
Comment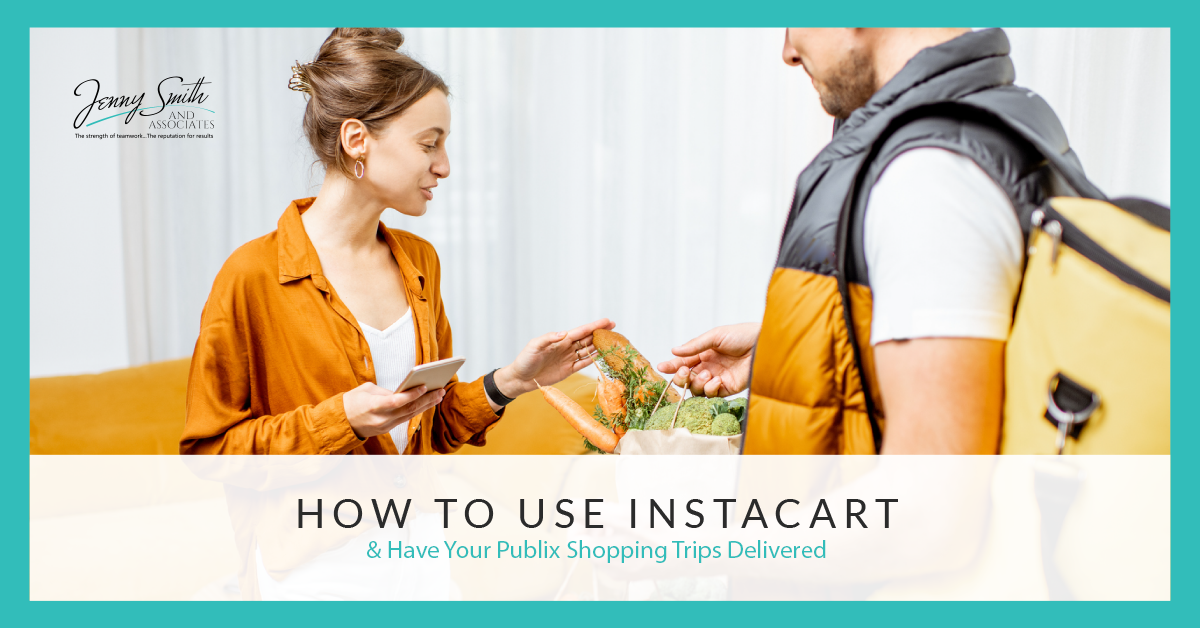 When you are disabled and live alone, or if you have young children and no transportation, or if you are sick or recovering from an illness or surgery, it is often impossible to get your groceries and household essentials. Some people are lucky enough to have family or friends who are kind enough to go shopping for them and deliver the food, but others just do not have anyone who lives near enough to help out.
Then, of course, during this "stay at home" coronavirus pandemic, it is even harder. It is a blessing to have a delivery service that will bring your groceries or other items right to your door. Whatever the normal delivery fee might be, it would be worth it. However, some Publix supermarkets are offering free delivery during this unprecedented time.
Some of the benefits of ordering for delivery
It saves customers from driving to the store and spending all the necessary time to shop for their items. They can do all that ordering from the comfort of their own homes and have someone else do that shopping and delivery in exchange for a service fee.
When you order from the store, you will find most items and prices the same as if you were actually in the store. You are able to give instructions about the specifics of the chosen items, and the shopper will follow those as closely as possible.
If something is out of stock, which can happen more than usual these days, you can often choose an alternate item. Your personal shopper might communicate with you to discuss any substitutions.
You are able to choose the date and approximate time for the delivery.
The shopper is helpful and friendly and makes this a good experience. He or she also has to follow sanitary and disinfecting guidelines with regard to your purchase.
A hold is put on your credit card for the approximate amount of what you have ordered, and you are not charged a final total until the order is completed.
Would you like to apply to shop and deliver for Instacart?
If you are looking for a new job because you were laid off from your latest one, or if your hours have been drastically cut back and you need a "side hustle," plus if you meet all the requirements (see below), this could well be your answer to get back to earning money.
Requirements:
There are two Shopper options: In either case, you visit their website, enter your phone number, and you will receive a link that will download the mobile app, which you will fill out completely with your name, cell phone number, email, zip code, and other required information. You then fill out a questionnaire that confirms that you meet the requirements. If that is approved, you pass a background check and complete the onboarding process.
An In-Store Shopper has less-stringent requirements, but you must be at least 17 years of age, be eligible to work in the USA, have a smartphone compatible with the Instacart mobile app, and be able to lift an average of 30 to 40 pounds, and can only work a maximum of 29 hours weekly as a part-time employee. The In-Store Shopper collects, purchases, and bags the grocery items in the assigned store based on a customer's shopping list and then gives it to the customer who comes to collect the prepared order or to a Full-Service Shopper for delivery.
A Full-Service Shopper is an independent contractor who determines his or her own schedule for as many or as few hours as desired. If they have consistent use of a vehicle with appropriate car insurance, some Full-Service Shoppers only deliver orders. Others do the selection of the items as well as delivering them. They must be at least 18 years old, be eligible to work in the USA, have a compatible smartphone, and be able to lift 30 to 40 pounds.
Health and safety issues
It is a top priority with Instacart to make safe deliveries and protect the shoppers and the customers by employing recommended local and national Health and Safety Guidelines for taking the appropriate precautions including sanitizing and a "Leave at My Door" delivery option.
Check out Instacart and Find a Publix Near You To Get Started.