Here's Events Happening In Cartersville And Acworth This March And April!
Posted by Jenny Smith on Wednesday, March 16, 2022 at 8:00 AM
By Jenny Smith / March 16, 2022
Comment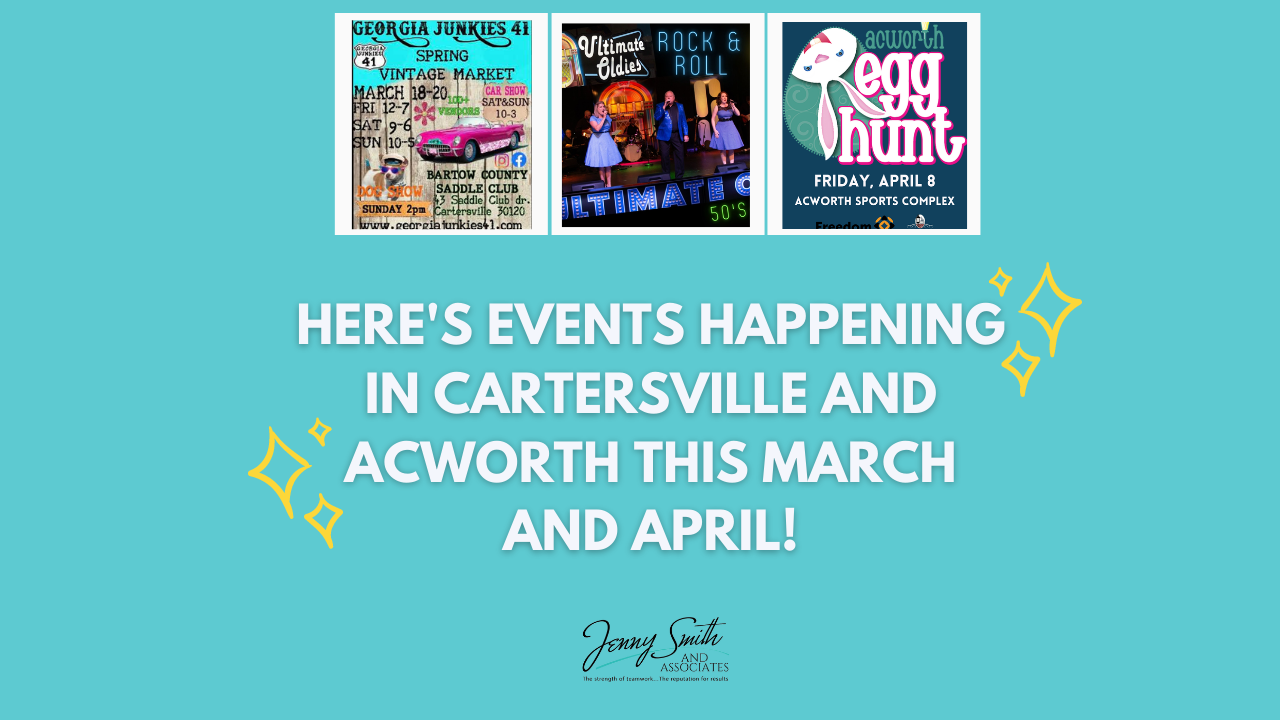 Here's Events Happening In Cartersville And Acworth This March And April!
Finally! The weather is getting warmer and that means more local events in Cartersville and Acworth. Spring is the perfect, peaceful season for you to do the things you love most…and we at Jenny Smith and Associates feel the same way!
That's why we've compiled a list of festivals, expos, game days and an abundance of happenings in your area this March and April. So get ready for springtime fun!
CARTERSVILLE LIST OF EVENTS:
Georgia Junkies 41 Spring Vintage Market
March 18 - March 20
Georgia Junkies 41 Spring Vintage Market is a shopping extravaganza featuring more than 100 vendors selling everything rusty, shabby, industrial to farmhouse chic! Expect to see unique handcrafted clothing, jewellery, recycled goods, furniture, home decor, timeless treasures and lots of junk. There will be plenty of delicious food, great deals, live music, and good ole' fashion family fun!
Friday – Noon-7 PM
Saturday 9 AM-6 PM
Sunday 10 AM-5 PM
PLUS Car Show Saturday & Sunday 10 AM-3 PM and Dog Show Sunday at 2 PM
Northwest Georgia Women's Expo
March 26 @ 9:00 am - 3:00 pm
Something for Every Woman! Health, Beauty, Fashion, Finance, Fitness, Food and Lifestyle. Men are welcome, too! Plus enjoy shopping handcrafted items from the Artisan's Market.
Ultimate Oldies Rock and Roll Show
April 2 @ 7:00 pm - 9:00 pm
Enjoy the classic songs and sounds of the 50's, 60's and 70's on stage at Cartersville's Grand Theatre. Reserved seating $25, doors open at 6:30 PM.
Kenny and Dolly Tribute
April 9 @ 7:00 pm - 9:00 pm
Featuring Dave Karl as Kenny Rogers, and Karen Hester as Dolly Parton, this tribute concert is presented by the Booth Western Art Museum at Cartersville's Grand Theatre and coinciding with the Booth Museum's exhibition of Through the Years: Kenny Rogers' Photographs of America.
BBQ and BREWS
April 16 @ 12:00 pm - 8:00 pm
A local favorite is returning to historic downtown Cartersville! Come out to the 5th annual BBQ and Brews. Craft beer, more than 100 vendors, live music by Jonathan Paython, Whiskey Roseband and more! The perfect storm for a day full of fun.
Century Bank Entertainment Series Welcomes Henry Cho
April 23 @ 7:00 pm - 9:00 pm
Another highly requested artist returns to The Grand with comedian Henry Cho. Henry's TV credits include appearances on NBC's The Tonight Show, CBS's The Late, Late, Show, and NBC's Young Comedians Special.
ACWORTH LIST OF EVENTS:
ACWORTH ART FEST at Historic Downtown
April 2-3, All day
The Acworth Art Fest will return to historic downtown Acworth on Saturday, April 2 from 10:00 a.m. to 6:00 p.m. and Sunday, April 3 from 10:00 a.m. to 5:00 p.m. This perfect art-buyers destination will host booths from over fifty whimsical and talented artisans from around the country.

ACWORTH EASTER EGG HUNT at the Acworth Sports Complex!
April 8 @ 6:00 pm - 8:30 pm
The skydiving Easter Bunny will be back for 2022! Come watch him make his exciting arrival on Friday, April 8 at the Acworth Sports Complex! The City of Acworth and Freedom Church invite your family to participate in the return of the Acworth Egg Hunt!

LIVE AT LOGAN FARM PARK
April 23 @ 5:00 pm - 10:00 pm
Join us for some live music at Logan Farm Park (4405 Cherokee Street) on Saturday, April 23! The Acworth Arts Alliance will be partnering with the City of Acworth to bring you Live at Logan Farm Park featuring music from The Weekend Getaway Band. Music begins at 7:00 p.m.