Experience Farm Life Adventures: Discovering the Delights of Pettit Creek Farms
Posted by Jenny Smith on Monday, September 25, 2023 at 3:40:17 PM
By Jenny Smith / September 25, 2023
Comment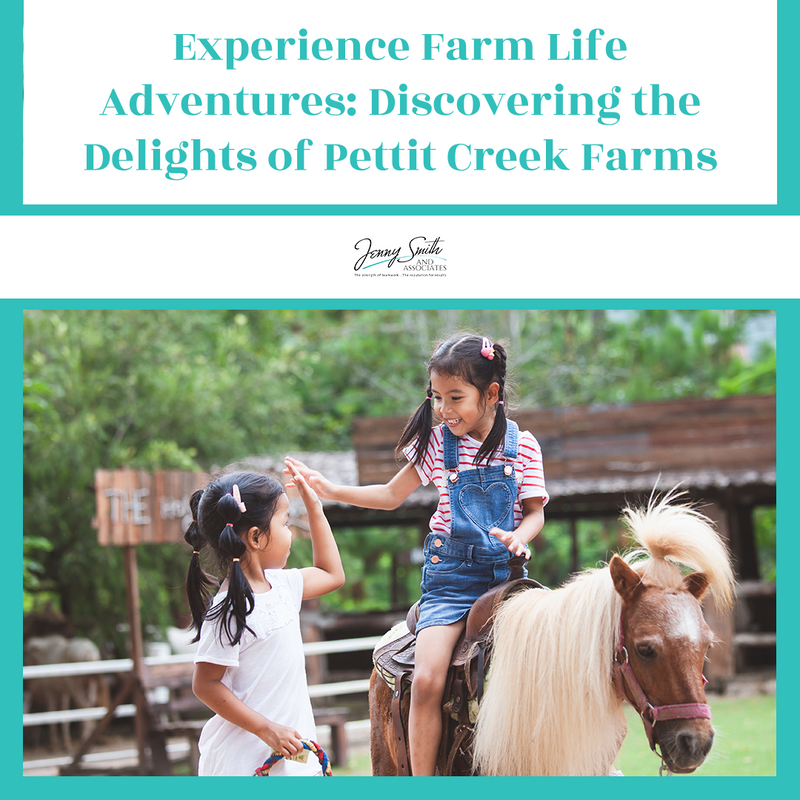 When it comes to experiencing the authentic charms of farm life, you don't need to venture far. Tucked away in the heart of beautiful Cartersville, Georgia, Pettit Creek Farms offers an immersive farm experience that's both educational and fun for the whole family. Join us as we embark on a virtual tour of this delightful farm through their website, https://pettitcreekfarms.com/, and discover the wonders that await you.
A Slice of Farming Paradise
Pettit Creek Farms' website welcomes you with a picturesque view of their farm, showcasing rolling green pastures, vibrant barns, and friendly animals. This initial glimpse sets the stage for a unique and unforgettable adventure, making it clear that this is not just a farm; it's a slice of farming paradise.
Meet the Animals
One of the highlights of Pettit Creek Farms is undoubtedly its diverse animal population. The "Animals" section on the website introduces you to the residents of the farm, from lovable llamas and adorable alpacas to curious kangaroos. Each animal profile comes with interesting facts and stories, allowing you to get to know these creatures even before your visit.
Plan Your Visit
While exploring the farm through the website is a fantastic experience, nothing beats the joy of experiencing it in person. The "Plan Your Visit" section on the website provides all the essential information you need for a memorable trip, including admission prices, hours of operation, and special events.

Whether you're planning a family outing, a field trip, or a special event like a birthday party or wedding, Pettit Creek Farms has something to offer. Their beautiful barns and scenic landscapes make for a perfect backdrop for any occasion.
Educational Opportunities
Pettit Creek Farms is not just about fun and games; it's also about learning. The website's "Educational Opportunities" section highlights the farm's commitment to education. They offer educational tours and field trips that provide an in-depth look at farm life, agriculture, and animal care. It's an ideal way for children and adults alike to gain a deeper understanding of the world of farming.
Events and Activities
The farm is a hub of activity, with something exciting always on the horizon. The "Events and Activities" section on the website keeps you updated about upcoming events, from seasonal festivals to hands-on workshops. Whether you're interested in pumpkin picking in the fall, holiday festivities in winter, or a springtime celebration, Pettit Creek Farms has something to make every season special.
Book Your Event
If you're planning a special event, Pettit Creek Farms is the perfect venue. The website provides information on how to book your event at the farm, whether it's a wedding, corporate event, or private party. Imagine saying "I do" amidst the rustic charm of the farm, or hosting a memorable team-building day for your colleagues in this serene countryside setting.
Gift Shop
Don't forget to visit the "Gift Shop" section on the website, where you can explore farm-inspired merchandise, including clothing, toys, and souvenirs. It's an excellent way to take a piece of Pettit Creek Farms home with you, whether you're looking for a memento or a unique gift for a loved one.
Stay Connected
To stay updated on all the farm's news, events, and special offers, be sure to subscribe to their newsletter or follow them on social media. Pettit Creek Farms is a vibrant community, and you'll want to be part of it, whether you're planning a visit or simply looking to be inspired by the farm's activities.
Plan Your Farm Adventure Today
As you explore the website, you'll quickly realize that Pettit Creek Farms is not just a destination; it's an adventure waiting to be had. Whether you're a nature enthusiast, an animal lover, a parent, or simply someone seeking a peaceful escape from the hustle and bustle of daily life, Pettit Creek Farms beckons with open arms.

So, if you're ready to experience the wonders of farm life, visit https://pettitcreekfarms.com/ today. Discover the beauty of the countryside, bond with friendly animals, and create memories that will last a lifetime. Pettit Creek Farms is more than just a farm; it's an invitation to experience the magic of rural life, right in the heart of Cartersville, Georgia.