Etsy Home Finds We Love!
Posted by Jenny Smith on Wednesday, November 25, 2020 at 7:31 AM
By Jenny Smith / November 25, 2020
Comment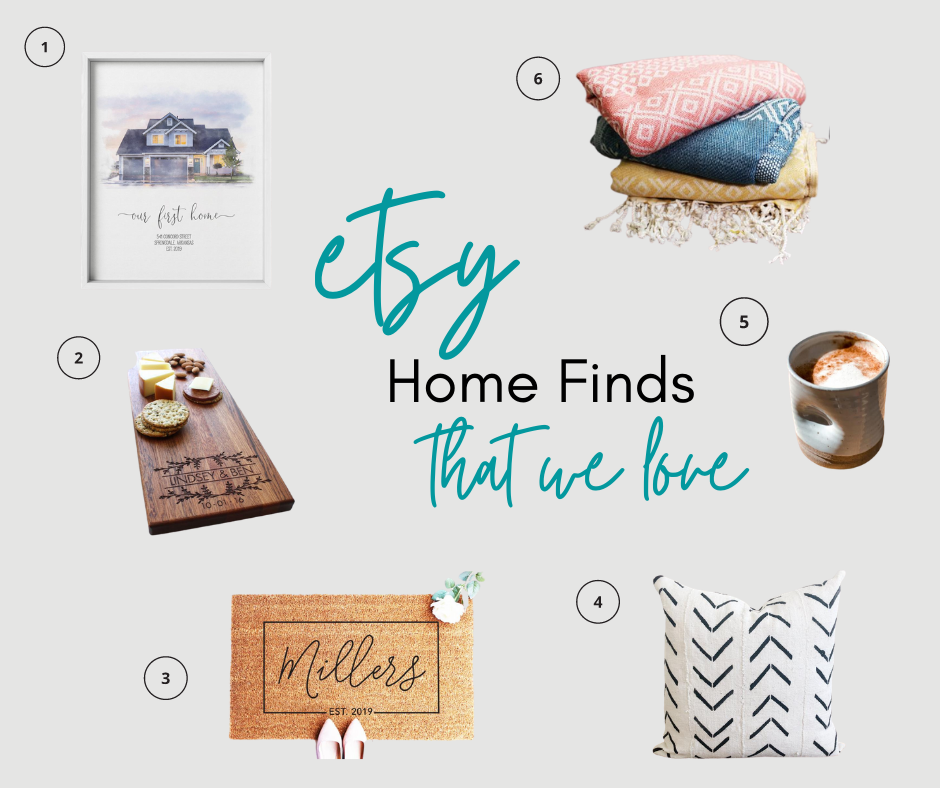 Etsy Shopping Links in the each title.
I love the artistry and the simplicity that these paintings offer. This company can take any photo of a home and turn it into a beautiful painting to display in your home. This would make a great addition to your entryway. Also, I would love to receive this as a gift so it is a unique idea for new homeowners or even for parents or grandparents to remember the childhood home.
I have fallen in love with charcuterie boards this year! They are the perfect option if you are hosting guests or even if you are attending a gathering where you need to bring an appetizer. There are so many options for the snacks that you can put on them. If you ordered a personalized board then it would make an excellent gift to take to as a gift to newly weds or even as a beautiful piece to add to your kitchen counter. The board doubles as decor as well as functional kitchen item.
3. Door Mat
I love how welcoming this door mat is for a front step. If you live in the south I feel like it is a requirement to have your name or monogram all over everything! This mat is both functional and offers southern charm :)
Pillows are a great way to add texture or a pop of color to your living space. These african mud cloth pillows would make a great addition if you are wanting to change up the look of your home without replacing furniture or spending too much money. It would be a great idea to grab several different patterns so you can add some variety to your decor.
At first glance, it looks like this cup is damaged, but it is not. It is made to have a space for your thumb to fit perfectly into that little molded concave section. Hand thrown pottery offers an elegant and rustic look which works for a cabin home and a farmhouse type home.
These turkish towels are super popular right now. I love the patterns on these. They are so much more elegant and trendy than a regular towel. You can get these in multiple styles and sizes. They are thinner than the normal towel but super absorbent which makes them perfect for the bathroom or the pool house!