Best Places To Hike and Cycle in Cartersville
Posted by Jenny Smith on Tuesday, July 28, 2020 at 9:20 AM
By Jenny Smith / July 28, 2020
Comment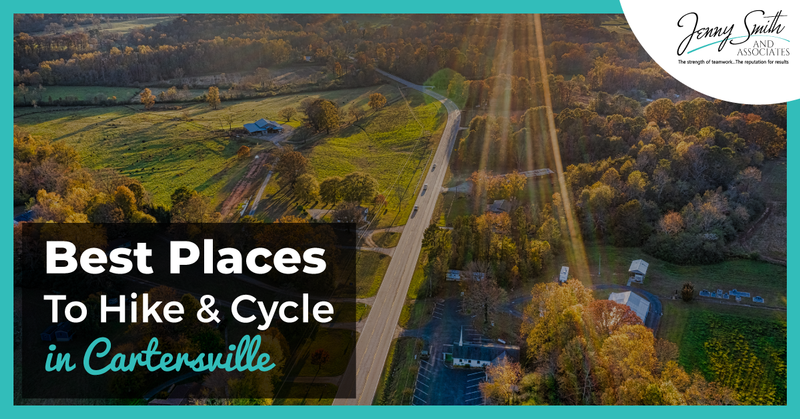 The city of Cartersville, GA has plenty of great amenities located within the city that make it a great place to move to or open a business. While there are a lot of local amenities, it is also a very great place to live if you enjoy getting outdoors. If you like to hike & cycle, there is a wide range of different trails and activities that you can take advantage of, which are located within a short drive of the city.

Pine Mountain Recreational Area

One great place to go for a hike & cycle in this area is to the Pine Mountain Recreational Area. This area is located just off of I-75 and offers plenty of great places to go for a short bike ride, a run, or a long walk. In total, there are two different loops and paths that you can enjoy. These total just over 4.3 miles in length. Hikers and runners are allowed to enjoy these paths all seven days of the week. However, bikers are only permitted on Wednesdays and Sundays and need to wear helmets at all times.


Lake Allatoona and Etowah River

One of the premier hiking trails in this area of Georgia continues to the be trails around Lake Allatoona and the Etowah River. When you come here, you can enjoy one of our different trails, the longest of which is the 6.5-mile Vineyard Mountain Trail. When you are on these trails, it is important to keep your eyes open for all of the amazing wildlife. It is very common to see deer, hawks, and even small foxes.

Red Top Mountain State Park

One of the most popular state parks in all of Georgia continues to be the Red Top Mountain State Park. This area is full of great places to enjoy camping and other outdoor activities. However, there are also plenty of great options for those that are looking to go for a hike or long bike ride. This state park offers four different trails to choose from. For bikers, the best option is the four-mile Iron Hill Trail that goes through an amazing natural setting. There are also three different hiking trails that range from half of a mile to over five miles in length.

Trails Within the City

While there are plenty of trails and bike and hiking routes that are located near the city, there are also some that are located within the city as well. Within the city of Cartersville, there are plenty of great options. This includes the Etowah Riverwalk that is about 2.6 miles in length but walks through some of the top landmarks in the city. You can also find some great trails and paths to follow at either Dellinger Park or near Pettit Creek.

Sosebee Cycling Park

While it is located a bit further outside of town, the Sosebee Cycling Park is a premier option for cyclists. This cycling park has a range of different routes that you can follow, which range anywhere from 15 to 100 miles in length. The location near the base of the foothills also creates a variety of challenges that can help any cyclist get stronger and faster.
The Petit Preserve

For those that are looking to have a fun overall experience, coming to The Petit Preserve is a great option. This is a preserve with about 70-acres of land that is also the home to a variety of species, including some that are on the endangered list. While there are some nice hiking trails in the area, there is also an amphitheater, a swinging bridge, and other features that can help anyone to have a fun and relaxing day.