9 Things We Can't Wait To Do Again in Cartersville
Posted by Jenny Smith on Sunday, May 17, 2020 at 8:19 PM
By Jenny Smith / May 17, 2020
Comment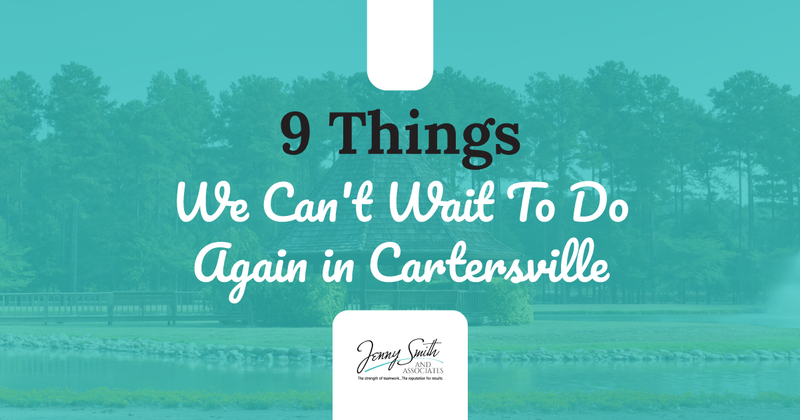 A world of majestic natural beauty and classic Southern charm is waiting in Cartersville GA! Like most people, you may be feeling eager to get out there to see beautiful places once sightseeing is back on the table. Here's a look at nine things we all can't wait to do again in beautiful, welcoming Cartersville!
Roam Red Top Mountain State Park
Red Top Mountain is a natural jewel featuring a 12,000-acre lake and 15 miles of trails. It's easy to spend a day among the swimmers, boaters and fishing enthusiasts who gather at Lake Allatoona. This heavily forested park gets its name from the rich, red hue of the soil that is a product of the area's heavy iron-ore content. This former mining spot is now a leisure haven for families and lovers of the outdoors. The list of not-to-miss spots within the park includes a reconstructed 1860's homestead, a gravel-topped trail that overlooks Lake Allatoona's shoreline and a radiant sand beach.


Explore the Booth Western Art Museum
You can visit the largest permanent collection for Western art in the country right in beautiful Cartersville, Georgia! The Booth Western Art Museum is a rare and special museum showcasing the history and culture of the Western United States. In fact, it is the only museum of its kind within the Southeastern United States. Go beyond the cowboy mystique to explore a catalog comprised of art from the Civil War, presidential portraits, indigenous art and contemporary art. Works from icons like G. Harvey, Howard Terpning and Ken Riley are on display. A highlight of the museum is a collection of retired stagecoaches. Additionally, a hands-on gallery designed for kids brings to life a working ranch!


Visit the Tellus Science Museum
A Smithsonian-affiliated museum right near Cartersville called the Tellus Science Museum offers glimpses into natural history and science for all ages! This impressive facility houses the Bentley Planetarium and observatory facility. In addition, museum guests can enjoy extensive fossil and mineral exhibits. This is an extraordinary place to get your dinosaur fix! Guests can also check out a camera installed by NASA that tracks meteors!


Go to Old Car City USA
This next one is perfect if you like quirky attractions that are located off the beaten path! Old Car City USA is a very unusual museum that could easily be confused for a "junkyard" at first glance. However, one only has to take a few steps through this treasure trove of rare, unique cars to know they've arrived someplace very special! Old Car City USA contains the largest known classic-car junkyard in the world. Visitors will find more than 4,000 American-made cars spread out over 34 magical acres. However, what makes this place truly special is the way each "exhibit" is contained with the twists and turns of a beautiful landscape. Media outlets ranging from the BBC to the "New York Times" and "CBS Sunday Morning" have profiled Old Car City USA.


View Etowah Indian Mounds
Flee the hustle and bustle to run to a 54-acre archaeological site nestled right within the southern side of Cartersville. This designated National Historic Landmark dates back more than 1,000 years. It is believed that the mounds were built and occupied by the prehistoric indigenous people of the South Appalachian Mississippian culture.


Visit the Euharlee Creek Covered Bridge
A visit to a romantic and historic covered bridge set over a raging creek is just a skip away when you're in Cartersville. The famed Euharlee Creek Covered Bridge features lattice trusses that span 138 feet. There's nothing but sweet Georgia vibes when you visit this beloved attraction set over the Euharlee Creek. The bridge is listed on the National Register of Historic Places.


See the World's First Coca-Cola Outdoor Wall Advertisement
The little slice of Americana is located on the exterior wall of Young Brothers Pharmacy in downtown Cartersville. It's listed on the National Register of Historic Places. The piece has been authenticated by the Coca-Cola Company as the first outdoor painted-wall advertisement in the company's history! It was installed in 1894. This is a lovely spot to pose for a one-of-a-kind photo when you're looking for simple things to do again around town!


Climb Pine Mountain
Pine Mountain offers several miles of stunning trails overlooking Cartersville! The mountain reaches an elevation of 1,562 feet at its highest point. You can enjoy stunning lake and landscape views on your up way up!


Tour the Lawn Rose Museum
Rose Lawn is a stunning Victorian mansion that is an enduring symbol of Cartersville. This beautifully restored estate has been on the National Register of Historic Places since 1973. The home is currently owned by Bartow County. However, it was notably owned by Samuel Porter Jones. A main attraction within the home is a dress that served as the inspiration for a gown worn by Scarlett O'Hara in "Gone With the Wind."


Which One Will You Visit?
Keep these nine attractions in Cartersville GA in your pocket for when you're looking for things to do again! They offer fresh air, beautiful scenery and tons of history! Some might say that you don't really know Cartersville unless you've seen them all!