7 Restaurants That Are Offering Pick-Up in Cartersville
Posted by Jenny Smith on Sunday, May 10, 2020 at 8:32 AM
By Jenny Smith / May 10, 2020
Comment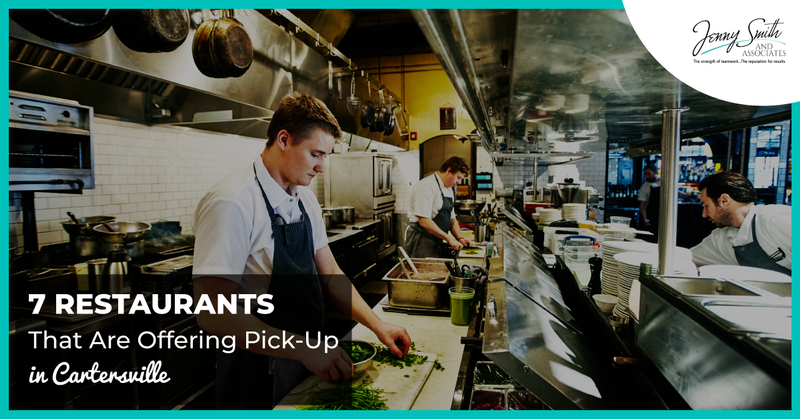 Cartersville, Georgia is a popular community located about 45 miles north of downtown Atlanta. This city is a great suburban community that is well known for good schools, beautiful scenery, and some great restaurants. While Cartersville has some amazing restaurants, the recent pandemic has impacted the people that can and want to eat out. Fortunately, there are still seven restaurants in the area that offer the opportunity to order and pick up your meal to enjoy at home.

Neena's New York Style Pizza
There is nothing quite as nice as having a delicious pizza at home with your loved ones. If you are in the mood for a pizza, you should look no further than Neena's New York Style Pizza. This popular restaurant and pizzeria are continuing to serve the local area. While the onsite bistro is temporarily closed, you can still order by calling or using the online service for pickup or delivery service. Another unique service offered by the pizzeria is that they sell frozen pizzas to go, which taste just as fresh when you take them out of the oven.
Main Street Coastal Cuisine
The Main Street Coastal Cuisine restaurant is well known in the Cartersville area for having some fresh fish and a full menu of delicious cuisine. These meals are often paired with a fresh beverage, which can enhance your overall experience. While the dining room is not open currently, you can still enjoy the full Main Street Coastal Cuisine experience from your own home. They offer a large takeout menu, which includes a fish or other meal option that anyone will enjoy.
City Cellar and Loft
One of the most popular restaurants in Cartersville continues to be The City Cellar and Loft. The restaurant is well known for its local cuisine, which can include fish and chips, hamburgers and other American staples. While you may miss the fun ambiance that is provided inside the restaurant, the cuisine is still available at any time. You can order a wide range of different items from the menu for pickup during normal business hours. You should also call to learn more about the craft beer and wine that can be ordered to go as well.
Scott's Walk-UP Bar-B-Que
One of the most popular restaurants in the Cartersville area is Scott's Walk-UP Bar-B-Que. This is a classic restaurant option that offers some of the best barbeque in Georgia. While this is a great place to lounge and enjoy a great plate of pork, beef, or chicken, they are currently only offering food for pickup and delivery. The restaurant continues to cook up some great meat on a daily basis, which allows you to get a delicious platter or sandwich during normal hours.
El Nopal Mexican Restaurant
If you are in the mood for some tacos or other Mexican food, you should look no further than El Nopal Mexican Restaurant. This is one of the most popular restaurants for pickup due to the delicious and fresh food that you will receive. The El Nopal Mexican Restaurant continues to offer a full menu, which is available for pickup or through a variety of different delivery services. This can be a great place to come for a quick snack or if you are looking for a unique dining experience for your entire family.
The Original Steak and Rib House
One of the top restaurants for pickup in Cartersville is The Original Steak and Rib House. For those that are in the mood for a high-quality steak and sides, you should look no further than this restaurant. When you come here, you will enjoy the amazing steaks, hamburgers, chicken and other meals. You can also order the popular fried onion rings for to-go service as well.
Chicken Salad Chick
If you love a healthy food option with a southern hospitality feel, look no further than this local favorite. Each menu item offers tasty and nutritious meals that will bring a smile to your face. You have to try the "Barbie-Q", a hickory-smoked BBQ flavor that is simply amazing. They offer an option to order online so you can make the pickup process quick and easy.
Each offering is not only tasty, but they are also nutritious, bringing a smile to everyone's faces!