7 Questions To Ask A Realtor Before Selling Your House
Posted by Jenny Smith on Sunday, August 9, 2020 at 9:57 AM
By Jenny Smith / August 9, 2020
Comment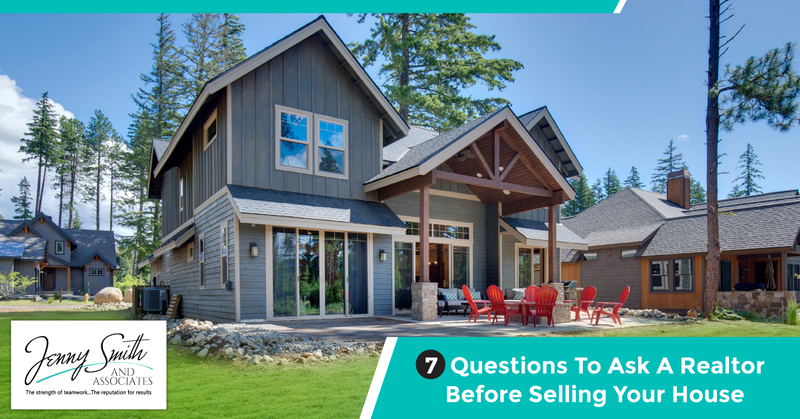 Selling your home is often a precursor to a major life change. Given the significant transitions involved, it's important to make your home-selling process as smooth and effective as possible. Assuming that you have a realtor involved to help you sell your home, they can be an enormous asset to help you reach the finish line. To ensure that you and your realtor are on the same page, though, it's important to ask some simple questions to help get into the mind of your realtor. To help you get helpful answers, here are 7 questions to ask a realtor before selling your house.

1. What Type of Person is Likely to Buy My House?
While your realtor can't look into a crystal ball and see the face of the future buyer, they can take what they know about your home and apply it to their knowledge of past sales. Given this component of past experience, then, this question does a lot to reveal the types of marketing tactics that your realtor plans to use to sell your home. After all, if certain tactics worked to sell similar homes to a certain demographic in the past, then those are the same tactics that your realtor will use to sell your home in the present.

2. How Does My Home Look?
Since they have been present for several real estate transactions, your realtor knows which features help sell a home. Therefore, if you ask this question, you can gain insight into whether or not your home is ready to sell. If your realtor offers suggestions for improvement, it would be a wise idea to take action on those suggestions, since this can result in a faster sale and a higher selling price.

3. What Types of Fees Do You Charge?
When using a realtor to sell your home, it's not a question of if you'll have fees, but how much those fees will be. To ensure you're getting a good value by utilizing a certain realtor, it's important to get a good idea of what types of fees they charge and how large their commission is. Keep in mind that you probably don't want to choose a realtor based solely on which one charges the lowest fees, as you definitely get what you pay for when it comes to realtors.

4. What Is Your Experience In This Neighborhood?
Though all home sales are, to a certain extent, the same, each unique neighborhood changes the character of the sale somewhat. If your realtor understands your neighborhood, it's more likely that they'll use effective marketing tactics and pricing to get your home sold quickly. If your realtor has never sold a home in your neighborhood before, though, it doesn't have to be a deal-breaker. As long as a realtor is willing to put in the work to research a neighborhood, they will likely do just fine with your home sale.

5. How Long Does it Usually Take You to Sell a Home After It's Been Listed?
This question is key, as it reveals how effective your realtor is at marketing and showing homes to potential buyers. It also shows whether or not your realtor prices homes within an acceptable range to ensure they're sold in a reasonable time. While you certainly want the time-on-market to be as low as possible, the more telling sign is how your realtor's number compares to other realtors. As long as their number isn't out of line, then you know you've got a realtor you can trust.

6. Do You Have Others Working For You?
Successful realtors can become more successful by adding other realtors to their agency. If your realtor has assembled a team of agents, then it's likely that you'll be working with at least one of these other agents at some point. By determining if your realtor has a team working alongside them, it will give you insight into their success as a realtor and will let you know if you might end up working with someone else. If you will be working with someone else, make sure to get their contact information from your realtor so that you're never accidentally left in the dark.

7. How Do You Market Homes That You Sell?
Given the wide range of home buyers at any given time, realtors have to be savvy with a wide variety of marketing tactics. They should be comfortable with social media to appeal to younger buyers and know how to work the phone and print media as they seek-out older buyers. If your realtor has a multi-faceted marketing strategy, then you can be confident that your home will sell as quickly as it should. If their marketing seems to be focused on a specific type of marketing, though, you may want to look elsewhere.

When selling your home, your choice of a realtor will ultimately determine your selling experience. Make it a good experience, then, and ask any potential realtors these and other probing questions.