7 Client Stories & Why You Should Choose Us
Posted by Jenny Smith on Tuesday, June 30, 2020 at 8:41 AM
By Jenny Smith / June 30, 2020
Comment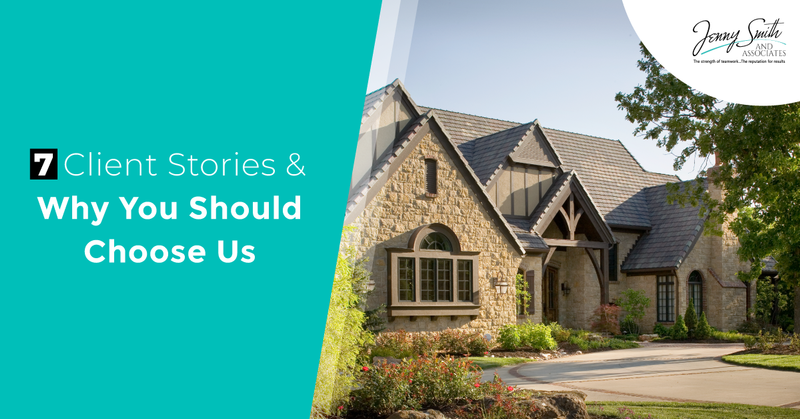 As a team, we've pooled our talents and resources with you in mind. Everything we do is with the goal of providing the best service possible as we help you navigate the real estate process.
Our Buyer's Specialist motto is: We sell homes. We build relationships. We problem-solve. We negotiate. We go into scary basements. We discover the gems in our areas. We obsess over prices, market values, and the newest, hottest listings. We make sure our clients don't buy the wrong home.
When we walk away from the closing table we want you to have experienced what you deserve in your real estate transactions. We strive to be the agents our clients deserve, and we believe our clients deserve the very best.
We wanted to compile 7 of our clients and some of their stories so you can see how we treat the people that do business with us.

Jack - Sold Home In Under 8 Weeks!
"Our home had been listed with another agent with very little traffic and no offers. We spoke with Jenny and appreciated her approach to marketing. Her photos with the listing really showed off the home and property. We closed on the sale of our home in under 8 weeks!"

Cynthia - Single Family Home Buyer
"I worked with Jessica Brewer and she was absolutely the best. It took 3 months for us to find the right house for us. She never gave up or showed any signs of disinterest. She was always able to answer any questions. She communicated with me frequently through all of the steps and processes. I would highly recommend her to anyone."

Delora - Sold Singe Family Home
"Jenny came to our home immediately after we contacted her for information. She recommended a price and showed her reason/research. We listed our home with her, three days later we had a contract with a solid offer. We had a delay, due to the buyer, but everything else went smoothly. I would use her again in the future."

Jennifer - Bought Single Family Home
"Awesome agents! Cryssi Wynn and Jenny Smith worked very hard to market my house and get it sold quickly!!! Cryssi is always available, responsive, proactive, and helpful. I will continue to use them as my agents!"

Brooke - Bought & Sold Home
"Working with Jenny Smith and Associates, especially Lindsey, has been great! From selling one home and under contract on a new home, the entire process has been very fast and easy. I can't say enough good things about Jenny Smith, Lindsey Fuqua and the entire team! I highly recommend them!"

Rene - First Time Home Buyer
"Honestly, what can't i say about this AMAZING woman. Im a first time home buyer and very young and had no prior knowledge to what even goes into buying a house. From the first time she called me she was so professional, courteous, and very understanding. Her personality combined with how knowledgeable and how good she is at her job turned my entire outlook of buying a home a whole 180 degrees. With her in my corner I never felt scared never felt rushed never felt any lack of respect always felt like she was truly working with me and not against me and because of that I was able to land my dream home the place where I know Me and my family are going to be comfortable for many many years. Even with all that's being said I don't think I could ever express the sheer gratitude I have towards her and all her hard work that she did for me I was truly blessed to have her in my corner 15/10 I would recommend her to anyone and everyone"

Susan - Fantastic Job Marketing Our Home
"Both Jenny Smith and Brittany Jones were very helpful in and supportive of the sell of my spec house. Jenny always kept be informed and did a great job marketing for me."
We do our best to make sure that we take care of you through every step of the buying and selling process. If you would love to read more of our reviews, check out our Zillow testimonials.
If you have any questions or would like to contact us. We are more than willing to help you through this exciting season of life.