5 Date Night Ideas To Look Forward To in Cartersville After Covid-19
Posted by Jenny Smith on Tuesday, June 16, 2020 at 4:42 PM
By Jenny Smith / June 16, 2020
Comment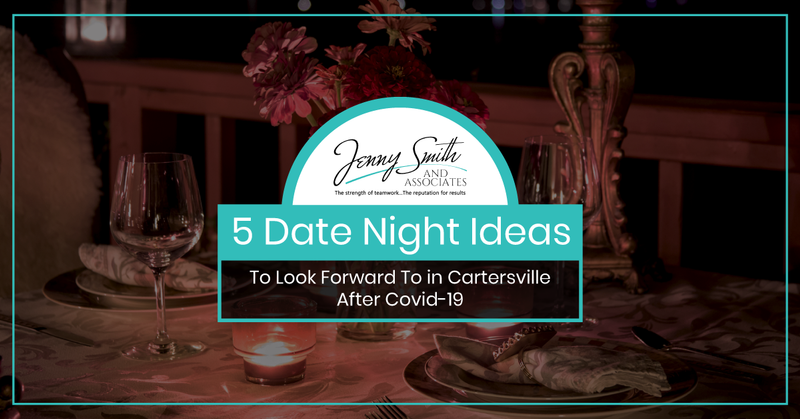 Nights out will make a comeback in Cartersville, Georgia! Those romantic, fun nights spent on the town enjoying a meal, painting and sipping or dodging lasers are going to feel more magical than ever once they do come back.
Are you eager to start planning date nights in Cartersville? Yes, you could probably spend every night of the year discovering a great date opportunity in this picture-perfect Georgia town. However, we're covering five of the best date ideas we can't wait to get back to!
Lakepoint Station
Lakepoint Station is the local fun zone! Yes, a lot of the attractions here are beloved by kids. However, the fact of the matter is that we're all going to need a little time to feel like kids at heart once we can get out to play again! Lakepoint Station offers a climbing station, mini-golf, laser tag, gem mining, a laser maze, and a mirror maze. You're getting an entire evening of fun that's full of everyone's favorite games and activities!
The Movies
Can you picture digging into a large tub of buttery, crunchy popcorn as the opening scene appears on the screen inside a darkened theater? It certainly has been a while since anyone has enjoyed that old-fashioned cinema experience. We're one of the lucky towns with a gorgeous cineplex featuring 3D, jumbo digital screens! Can't you practically taste how good those Sno-Caps or Red Vines you'll get from the concession counter are going to taste?
The Rose Lawn Estate
A daytime date is sometimes the best kind of date night! That's precisely why strolling hand in hand through the Rose Lawn Museum with your sweetheart is such a charming idea! This beautifully restored mansion from the Victorian era right in downtown brings you back in time with ornate, fanciful details. How's this for drama and romance? The dress that inspired the famous "curtains" dress worn by Scarlett O'Hara in "Gone With the Wind" is on display inside the Rose Lawn Museum!


A Little Downtown Restaurant Tour
A visit to the Rose Lawn Museum in downtown is the perfect precursor to a little restaurant tour that features some of the best eateries in town! Enjoy a mix of patio dining and bar-stool relaxation as you explore downtown dining opportunities. It's easy to get a little taste of everything by splitting appetizers and desserts at a few different places during your "tour." Popular spots like Maine Street Coastal Cuisine, the City Cellar and Loft, Table 20, Armando's Italian Restaurant, and many more offer blends of comfort food, Southern cuisine, and international fare!


A Paint Night at Cartersville Artist in You
Romance does have a way of inspiring one's creative side! That's exactly why this fun studio located right on East Main Street is such a delightful date spot! This is a beautiful, rustic studio space where you can enjoy painting, pottery, and other crafts. The best part is that you'll always have a special keepsake reminding you of your date night! No, you don't have to be a natural artist to enjoy a night at a "painting party" studio. The studio provides fully guided painting and art experiences that allow you to unleash your artistic side!


Counting Down the Days Until Your Big Night Out
Nights out are just around the corner! Dates are going to be even more special than they've ever been after COVID-19! Where will you go to enjoy an evening of fun in this beautiful town? Start mapping out a night to remember!