11 Home Renovations Ideas To Add Value In 2020
Posted by Jenny Smith on Tuesday, June 9, 2020 at 5:08 PM
By Jenny Smith / June 9, 2020
Comment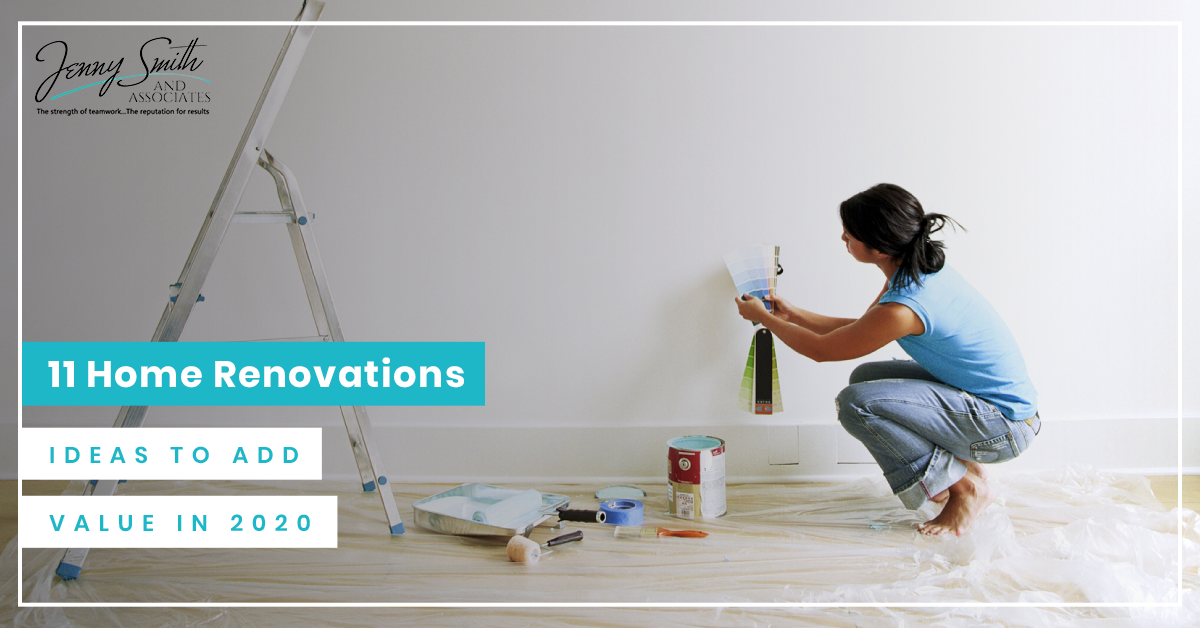 Investing in home renovations and making your home a more valuable place to live is a smart decision as a homeowner. Every year designers present renovation trends, and in this article, we have collected 11 home renovation ideas of 2020 that you can use to make your home's value in Cartersville skyrocket.
Wooden Kitchen Cabinets
Natural materials are extremely popular in home design in 2020, and wood is one of them. To renovate your kitchen this year, designers recommend you to choose walnut - elegant, warm, and rich type of wood. It pairs perfectly with different tones and colors, including blue, grey, and white. Wooden cabinets in your kitchen will make it warmer, cozier, and more welcoming.
Blue Kitchens
Blue color has remained one of the most popular and stylish colors in home design for a few years already. In 2020, you can see this color even more, especially in kitchens. Pantone Color Institute has even picked classic blue as the color of the year.
Porcelain
In 2020, designers have discovered a durable and affordable material for countertops that delivers a more polished look - porcelain. Moreover, compared to other similar materials, porcelain allows you to get more vivid patterns. In addition, it is also known for its heat- and stain-resistant qualities.
Quartzite
In 2020 quartzite is replacing granite - the material used in countertops, stair treads, tile floors, and many other design elements. Quartzite looks very similar to granite, but it is harder, more durable, and has better scratch and heat resistance.
Multifunctional Kitchen Islands
Though kitchen islands are not something new, they are going through some changes and transformations. In 2020, more and more homeowners are updating their kitchen islands by adding additional kitchen equipment, such as a dishwasher, microwave, cooktop, and garbage disposal. This all makes a kitchen island a more multifunctional space used for cooking, prepping, eating, and sitting.
Walk-In Showers
This might not be something new because walk-in showers started gaining their popularity years ago. However, in 2020 walk-in showers are at their peak popularity. More and more homeowners prefer to have big and spacious showers in their bathrooms that are easy to get in and out.
Tiled Bathtub Aprons
Tile is a perfect material for a bathroom. It looks great and it is affordable. If you want to add more value to your bathroom with little investment that will not sink the budget, then cover your bathtub in tile. This little trick will make your bathroom look more modern and stylish.

Freestanding Bathtubs
It is a classic design that will never go out of style. At least not in 2020. The best thing about freestanding bathtubs is that they will match any bathroom decor and create either a very modern or classic look. They might be a little pricey, but they are worth installing because they will significantly increase the value of your home.
Deep Utility Sinks
In 2020, convenience is especially valued in home design. That is why large and deep country sinks in laundry rooms are coming up again. Deep sinks are a perfect combination of practicality and style: they do not just allow you to do all prewash work effectively, but also add some charm to the design of your laundry room.
Calming and Breezy Design of Living Rooms
If you want to turn your living room into a peaceful and spacious room with a relaxing atmosphere, designers recommend picking light and soft colors for the walls and casual fabrics with minimalist prints.
Warmer Colors In The Interior
Even though neutral colors are still popular, more and more people in 2020 are moving away from boring greys by heading toward a warmer palette, including light brown, coral, pistachio, bright mint, and other colors. Another popular trend of this year is mixing cool and warm colors by creating contrast and unexpected combinations.

Some of these trends are completely new, while others have been around for a while. Either way, each of them will help to make your home look better and increase its value - whether it is in Cartersville or anywhere else.