Discovering Your Perfect Home: A First-Time Buyer's Guide to Navigating Cartersville, GA's Real Estate Market
Posted by Jenny Smith on Monday, June 12, 2023 at 9:59:17 AM
By Jenny Smith / June 12, 2023
Comment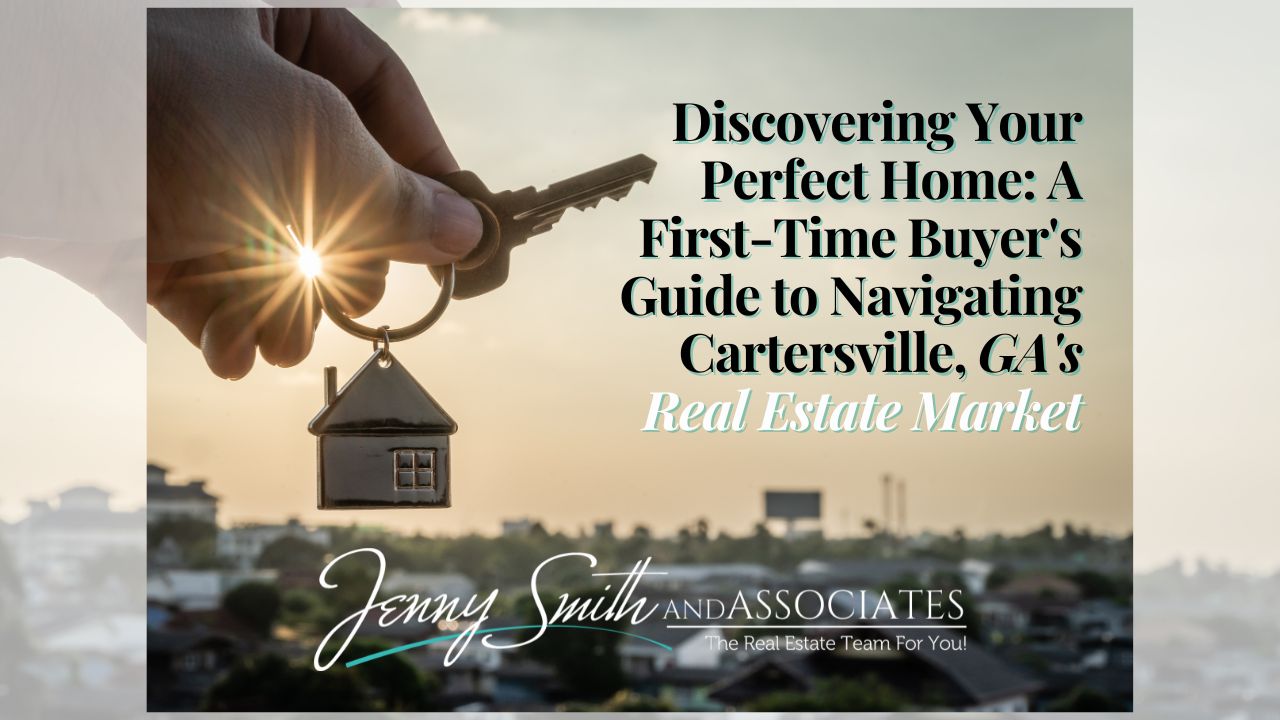 Discovering Your Perfect Home: A First-Time Buyer's Guide to Navigating Cartersville, GA's Real Estate Market
Welcome to the captivating journey of finding your perfect home in the vibrant city of Cartersville, GA! Navigating the real estate market as a first-time buyer can be both exciting and overwhelming. That's why Jenny Smith and Associates are here to be your reliable and knowledgeable companions on this adventure. In this comprehensive blog post, we'll provide valuable insights, expert tips, and practical advice to empower you in making confident decisions throughout the home buying process. Let's dive in and unlock the door to your dream home in Cartersville!
Accelerating Your Home Search
Did you know that the average home search in Cartersville takes around 10 weeks? Partnering with Jenny Smith and Associates accelerates your journey by providing access to exclusive listings and leveraging our extensive network. We'll fast-track your search, increasing your chances of finding your dream home in a shorter timeframe. Get ready to move into your new home sooner than you imagined!
Establishing Your Home Buying Goals
To embark on your home buying journey, it's crucial to establish your goals and priorities. Start by envisioning your dream home and consider factors like location, size, and amenities. By clarifying your requirements, you'll narrow down your search and save time. Remember, Cartersville offers a diverse range of neighborhoods, each with its unique charm. Take advantage of our extensive local knowledge to find the perfect fit for your lifestyle.
Simplifying Complex Processes
The home buying process can be complex, with various legal and financial aspects to navigate. Did you know that 72% of first-time buyers find the process overwhelming? The paperwork involved in buying a home can be overwhelming. Did you know that the average purchase agreement consists of 50 pages? Our team at Jenny Smith and Associates will handle the complex paperwork with precision and attention to detail, ensuring all documents are in order and protecting your interests throughout the process. Say goodbye to paperwork headaches and focus on the excitement of becoming a homeowner.
Making an Informed Offer and Closing the Deal
When you find the perfect home, it's essential to make an informed offer and negotiate wisely. Your agent will provide a comparative market analysis, helping you determine a fair offer price. They'll guide you through inspections, contingencies, and necessary paperwork. Once your offer is accepted, the closing process begins. We'll work closely with you, the seller, and other professionals involved to ensure a smooth and successful closing. Soon, you'll be holding the keys to your new home!
Congratulations on taking the first steps towards homeownership! By partnering with Jenny Smith and Associates as your guide, you're well-equipped to navigate Cartersville's real estate market with confidence. Remember, we are here to support you every step of the way. Contact us today to start your exciting journey towards finding your dream home in Cartersville, GA.
Looking for our video tips for First Time Home Buyers? Here they are: https://www.youtube.com/playlist?list=PLEKf_3ZaL8ZFi_GN5qJyv5l6zFPIE9xW_