11 Reasons To Make Cartersville Your Next Weekend Getaway
Posted by Jenny Smith on Friday, July 17, 2020 at 1:09 PM
By Jenny Smith / July 17, 2020
Comment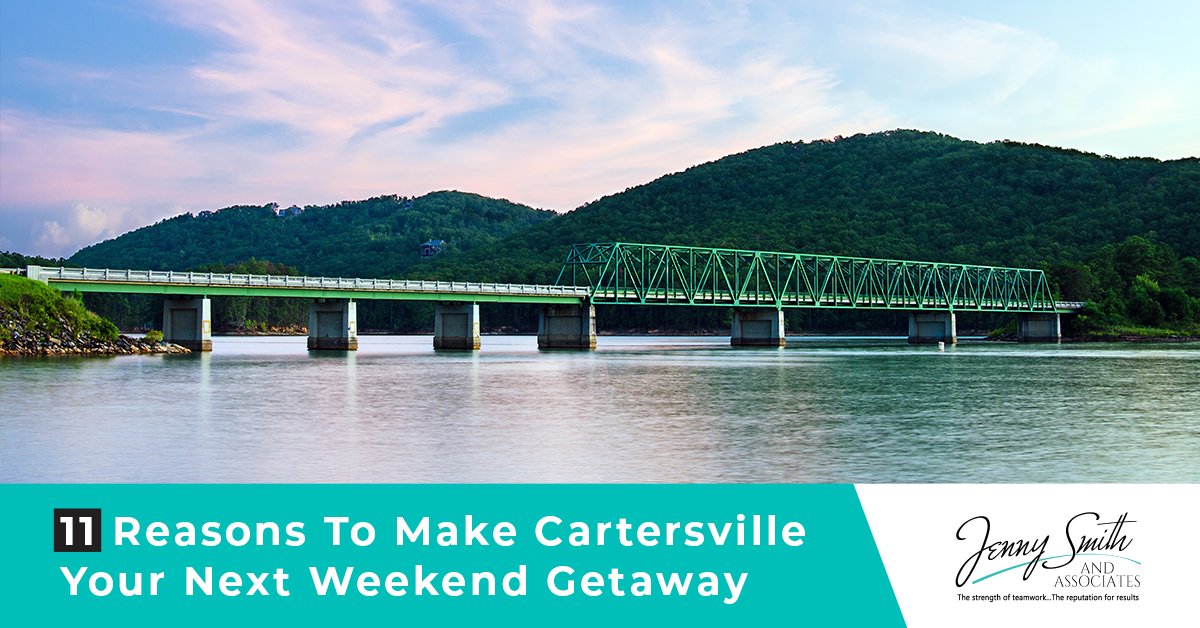 There's nothing more rewarding than a weekend getaway at the end of a long, tireless, thankless week at work. If you're looking for somewhere new to go to blow off some steam after another long week, there's a place in Georgia that should be near the top of your destination list.
The Etowah Indian Mounds
Between 1000 A.D. and 1550 A.D. several thousand Native Americans lived in this area, and the mark that they left on the landscape is still evident today. Tourists can visit the 54-acre area and see a plaza, a defensive pitch, the high flat-top area where the priest-chief lived, and more. Also, be sure to check out the artifacts that are still being discovered here.
4-Way Lunch
This iconic diner opened in the 1930s and is still a must for locals and tourists alike. You can stop by here to grab southern-style breakfast or lunch from a staff who will make you feel at home.
Tellus Science Museum
There's nothing wrong with learning something on a weekend escape, and the Tellus Science Museum offers that chance. With over 120,000 square feet packed full of knowledge, this is a must-see for anyone who is interested in the sciences.
Cooper's Furnace Day Use Area
If you're just looking for a place to unwind after your work week, this is an excellent option. You can pack a picnic, kick back by the river and enjoy the beautiful scenery at one of the most special spots in all of Georgia.
Booth Western Art Museum
Who says that art and history have to be mutually exclusive? People have long flocked to Cartersville from all around the nation to see the Booth Western Art Museum located on North Museum Drive. You should consider it, as well.
Pettit Creek Farms
If your weekend getaway involves the whole family, Pettit Creek Farms has to find a spot on your list of things to do. This isn't your typical southern petting zoo full of sheep, goats and other barnyard style animals. Instead, your family can enjoy some rare animals that you'd never expect to find in Georgia. A tip? Watch out for the camels. We hear they spit!
Pine Mountain Recreation Area
A mountain hike taking in some beautiful scenery is a great chance to unwind after your stressful week at work. Pine Mountain offers multiple hiking trails, each of which are designed for different experience levels. Grab your gear, lace up your boots, and spend a day on the trails forgetting about work for a while.
Swheat Market Deli
Nothing says lunch like a good sandwich. The Swheat Market Deli, located on East Main Street has every kind of sandwich you could need if you're looking for a local dive to stop in while you're in town. The big club sandwich is sure to become one of your favorites.
Allatoona Pass
We've discussed places that offer hiking and places that offer history, but Allatoona Pass offers both. This hiking trail allows visitors to pass through some of the most historic sites involved in the Civil War. If you're not entirely sure of your own hiking skills, sign up for a guided tour where a professional who is familiar with the area can get you to the spot where legendary battles were fought that shaped our great nation.
Red Top Mountain State Park
In addition to numerous hiking trails, you can enjoy fishing, swimming, water skiing, and more during your stop at Red Top Mountain State Park. The trails include special stops like the Trading Post where you and your group can grab souvenirs, take a break, and enjoy the local scenery.
Lake Point Station
Another great spot for a family fun day, Lake Point Station offers 45 mini-golf holes, 17 climbing walls, a laser tag arena, and more. You and your family can spend the entire day here and leave knowing that you've had a day chocked full of entertainment. You don't even have to leave the building to find dinner!

While Cartersville, Georgia may not be one of the biggest cities in the country, home of any theme parks or other tourist traps, we do have plenty to offer if you're needing somewhere to escape reality for a couple of days. Swing by our little town in Georgia and see what you've been missing.